Walls can be both difficult and expensive to decorate, especially if you have a large, unbroken expanse of wall.  Framed art offers lots of solutions, including eclectic gallery walls, grids or over sized art.  But why not try something a little different?  Lately I've been seeing collections of baskets everywhere and I love the texture and interest they add to a room.  Baskets seem to have a moment every few years and right now they are HUGE. If you think baskets look a little too country, a little too "old lady" or a little too seventies (not in a good way), check out the images below and you'll change your mind!
I love these colorful beauties.  Note the small basket on the right that seems to be escaping the tight arrangement.  Details like that keep things interesting and keep the arrangement from looking too "forced."
When I see mantels like this, I hate my TV over the mantel situation even more!  Love, love tobacco baskets and hers is just perfect.
And of course the gorgeous new Country Living cover.
Erin from Ernest Home Co. posted this photo with the idea that you could paint black designs on plain baskets to mimic the look of African originals. Baskets are always plentiful and cheap at thrift stores so this could be a simple, easy-on-the-wallet project with a big punch.
I'll have this entire room, please.  Note how one of the baskets is hung so that the bottom faces out.
This eclectic arrangement is gorgeous!  The off-center and overlapping placement of the large baskets gives it a flowy, casual look that doesn't appear too "arranged."
Let's talk sources!  Of course thrift stores and antique shops will always have baskets, although it may take awhile to find exactly what you're looking for.  If you're impatient or want a certain look that only authentic hand-woven baskets can give, try these sources.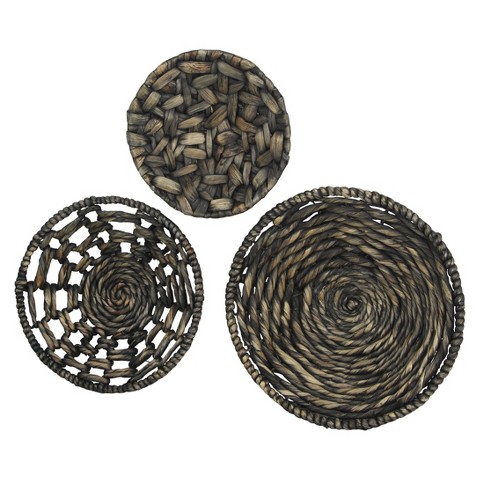 Etsy (I searched African basket wall decor and large tobacco baskets.  This one is from Tidepool Supply Co.
Ebay (I searched African basket wall decor and large tobacco baskets)
Happy basket hunting!